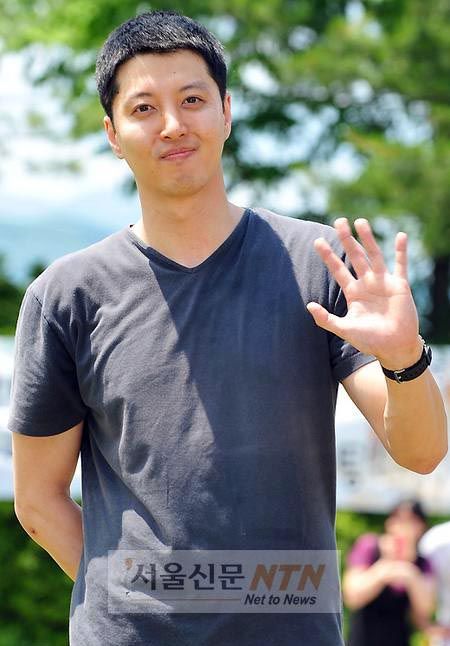 As previously announced, singer-actor Lee Dong-gun began his military service on the afternoon of June 15, when he headed to the army reserve unit in Chuncheon. Per his wishes for a quiet enlistment with little fanfare, Lee had only made the announcement of his departure two days ahead of time to purposely discourage a large fan gathering. Still, a small group of fans managed to show up to send off the star (including approximately ten from Japan — he has enjoyed some popularity there as a singer — who flew up to Korea for the occasion).
Lee said, "I'm enlisting later than intended, so I worry that I might be a hindrance to the others who train with me. That's why I want to work even harder during training. All men have to go [and fulfill military service], and I thought it would be better to do so quietly. I'll complete my two years diligently." Asked whether he wants to serve in the entertainers' unit, he answered, "I set my enlistment date so quickly I haven't even thought of that. I haven't made any plans yet."
Lee spent his last day as a civilian (the 14th) having drinks with his friends. He admitted that aside from his family, he hadn't alerted anyone as to his enlistment until two days ago, when the public also found out. "I thought fans might come from far away, so I purposely didn't let them know. I hope you won't be sad about it."
After making his debut as a singer in 1998, Lee went on to act in Lovers in Paris, Sweet 18, Stained Glass, Smile Again and When Night Comes.
After putting in his five weeks of basic training, Lee will serve twenty months of active duty, which puts his discharge at around March 2012.
credit : javabeans