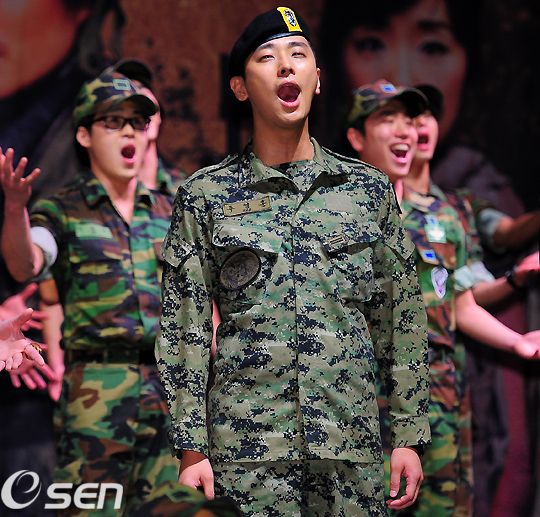 Here are some less-photoshopped, more realistic shots of Joo Ji-hoon and Lee Jun-ki in the army musical Life's Voyage, as well as their thoughts about each other.
In the musical, Lee Jun-ki plays a South Korean soldier, while Joo Ji-hoon is cast as a North Korean officer. They clash initially, but later they end up literally in the same boat, as they go through extreme circumstances on the ship Meredith together.
In the press conference for the show, they had this to say about each other:
Q: Your characters have conflicts in the plot, but how do you feel about each other?

Joo Ji-hoon: That is the hardest question. (laugh) Lee Jun-ki and I are of the same age and we met for the first time in the military. I thought Lee Jun-ki would have a hard time because he was the last to join the musical. But although he has the lowest rank, he has such a great personality and is so outgoing that he always sets the tone in group surroundings. He gets along well with people around him, unlike his demure image.

Lee Jun-ki: I think it would have been great if we had met in comfortable surroundings outside the military. (laugh) And Joo Ji-hoon became a first-class private today. It was consoling that he was a second-class private like me, but this morning he came with his first-class rank. I was very depressed in the morning. But first-class private Joo Ji-hoon has a kind heart.
The show's producer, lieutenant major Lee Young-no explained, "Voyage of Life plans to thank the Korean and foreign soldiers who fought during the Korean War while informing teenagers, who don't even know which countries were fighting in the Korean War, that their freedom and happiness came at the price of sacrifice."
The musical commemorates the 60-year anniversary of the war, and will run from August 21-29.
Shots of Joo Ji-hoon:
And Lee Jun-ki:
credit : girlfriday@DB_as labeled