Our favorite faux idol band
A.N.JELL
, reunited at the 2009 SBS Drama Awards and performed the song "Still." It was
great
to see them all again and their performance was great! Check it out below:
Not only that all 4 members won awards. Lee Hong Ki, Park Shin Hye, and Jung Yong Hwa won 3 out of the 10 New Star Awards for their work in You're Beautiful.
Jang Geun Suk won one of the Top 10 Star Awards and the Netizen Highest Popularity Award for his role as A.N.JELL leader Hwang Tae Kyung.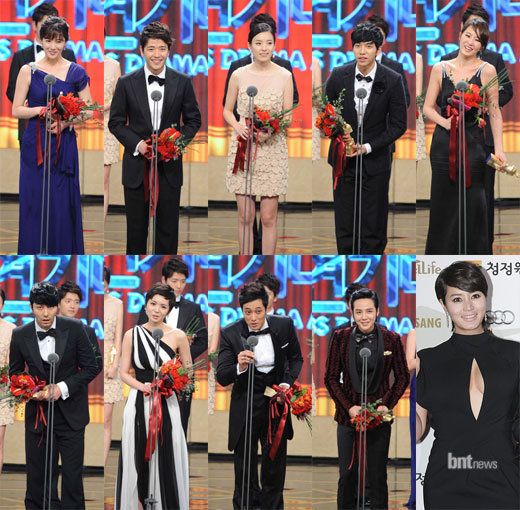 The top honors of the night, the Daesang Award, went to Jang Seo Hee for her role as Goo Eun Jae in Temptation of Wife. The Best actor awards went to So Ji Sub for Cain and Abel and Kim Mi Sook for Brilliant Legacy. The Best Couple Award went to Lee Seung Gi and Han Hyo Joo for their roles in Brilliant Legacy.
Congratulations to all. But to the cast of You're Beautiful, Great Job! I couldn't be happier for you all, pretty damn good for a drama that only got 10% viewership ratings.
You're Beautiful jjang! A.N.JELL fighting!
credit : hijinx @ SeoulBeats + as labeled